San Francisco, April 2014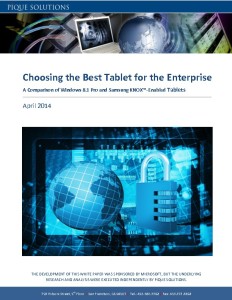 Between October 2013 and March 2014, Pique Solutions and its strategic partner Miratech, a global systems integrator with a dedicated enterprise mobility services practice, conducted an exhaustive lab-based evaluation of Windows 8.1 Pro and Samsung KNOX™ on tablet PCs. This study matched the capabilities of a Windows Surface Pro 2 tablet running Windows 8.1 Pro against a Samsung Galaxy Note 10.1 (2014 Edition) running Android™ 4.3 ("Jelly Bean") and Samsung KNOX, and analyzed 345 unique parameters important to enterprise users. While a Surface Pro 2 tablet was used for this test, the capabilities described would be available in any tablet running Windows 8.1.
Based on the results of extensive testing and analysis, and taking into account the full complement of out-of-the-box enterprise security and management capability and the ability to interact seamlessly with the entire Microsoft productivity suite, Pique concluded that the Windows 8.1 Pro tablet offers a superior alternative to the Samsung tablet with KNOX for bridging the consumer and enterprise requirements.